Truck, off-road, and heavy-duty terminal lug and splice applications designs originated around the time of WWII. In military environments, army rolling stock and naval on-board power applications, vibration and corrosion intensive operating environments, as well as the costly
and dangerous impact of over-heating and battery power failure, impose robust design considerations. Military designers specified products with heavier wire barrel walls, thicker bolting tang surfaces, and surface corrosion resistance. These specification were intended to provide performance to conductivity, resistance, and secureness values well above the traditional automotive products. During WWII and subsequent conflicts, when vehicles were transported en masse overseas, it became clear that connector designs would require redesign to meet the operating needs of the Tank and Automotive Command (TACOM) or Naval Exterior electrical applications.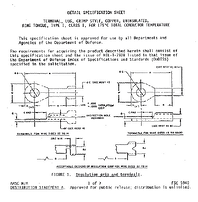 Since the release of military standard MS20659 by TACOM around the time of WWII, heavy-duty truck battery terminals have all been closed barrel that is either tubular or drawn cylindrical raw material. The standards requirements by SAE International and the Underwriter's Laboratories (UL 486 A) drew upon the gauge sizing and stud hole options of MS20659.
MS 20659 is one of many specifications listed within the larger, Mil-T-7928G, which is a collection of electrical connector specifications. MIL-7928G includes individual specifications for :
Terminal Lugs and Splices

Insulated and Uninsulated Connectors

Crimp

Style

Round and Square Tang

Heavy and Thin Wall Wire

Chamferred and "Bell-Mouthed" Terminal Lug Wire Barrels

Class 1(150 Degrees C Conductor Temp) and Class 2

Type 1 (Uninsulated), Type II (Insulated)
For a full line of Military or Truck Terminal Lug Products, see our Military Brochure or Truck / Automotive Brochure.

MS20659 specifically covers "Terminal, Lug, Crimp Style, Copper, Uninsulated, Ring, Tongue,Type 1, Class 1"
MS 20659 Specification Criteria
MS20659 calls out copper raw material requirements for strip QQ-C-502 and tubing ASTM B75.
MS 20659 calls out tin-plating requirements. Tin-plating is governed by MIL-T-10727C which specifies plating thickness, chemistry, and salt-spray duration resistance.
MS20659 calls out the dimensional characteristics and tolerances for terminal lugs between 22 Gauge and 4/0 cable sizes. Specifically, barrel diameters,barrel lengths, stud hole diameters, tang lengths,tang widths , tang thickness, stud and end clearances and overall lengths are identified for terminal lugs as a function of their wire size (gauge) and stud size. Tolerances are either ranges of sizes or Minimum or Maximum Values.
MS230659 calls out "Qualification Testing" , which is specifies usage of MIL-W-XXXX wire specifcations, and MIL-C-XXXX crimp tool specifications to ensure secure/conductive applications of connectors.Crimp compression is typically performed with a source of compression and crimp dies which are sized to constrain the conductor and connector to maximal bonding. Compression Tools can be manual, hydraulic, or battery powered. Generally, they force dies to reduce the containing space of conductor and cable toward inter-lacing and/or homogeneity. The size and stranding configuration of conductors determines whether less powerful manual or more powerful hydraulic and battery powered crimp tools are needed.
ASK Products' Mil.Spec. Heavy Duty Terminal lugs are available in the widest array of gauges and stud hole sizes; tinned versions. ASK manufactures a number of MS Product Lines:
MS20659, MS25036, MS35446, MS35447 & MS35449
ASK Products' lines meet and exceed UL 486A and SAE standards. ASK's product lines are UL Listed with crimp tools and dies which span the available crimp tool universe. ASK has been producing terminals and lugs for Army's TACOM since 1952 and its products can be found on virtually every tank, jeep, and military vehicle produced in North America. ASK Products terminal lugs are 100% American made here in Aurora, IL.

For more information about our products please visit our product catalog and for any questions please submit a contact us request or call at 630-896-4056.