Electrical and Transformer Power Connectors
Going big shouldn't be a big deal
ASK has provided a full range of dependable and custom power connectors to the electrical and transformer industries for more than 25 years.
That means while others have reduced or eliminated their line of large power connectors, we continue to provide custom-size, transformer-specific large power connectors, including the widest range of gauges to 2000 MCM you'll find today.
And we make it easy for you, no matter the size and scope of your company or project. We carry every part you'll need – download our 2,500-part catalog, and if you're not sure what part you need, visit our product configurator today. Made in America, dependable, UL certified, and competitively priced, our electrical and transformer power connectors are made to perform.
Have a unique need or special service? We'll help you with that, too. We'll engineer and manufacture the custom parts you require, thanks to our in-house prototyping and tooling services. We can design and implement a stocking program to ensure you always have what you need, and we'll be there for you when an emergency need arises, too.
While ASK Power continues to offer the traditional, square tang products you are familiar with, we are excited to announce...

*** NEW Transformer Specific Product Line ***
ASK Power has created three new product lines for Power Transformer needs, Distribution Transformer needs and Transformer Bushing Connectors. These dedicated lines increase your options and offer exactly what you need - Terminals, Tools and Testing. Download our Transformer Catalog (form on the right) or see our new line of Compression Tools
DISTRIBUTION TRANSFORMER PRODUCTS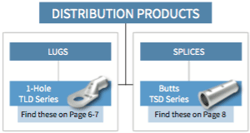 Cable sized for Flex or Stranded
Rounded Tangs for Movement
Tinning for External Corrosion Protection
POWER TRANSFORMER PRODUCTS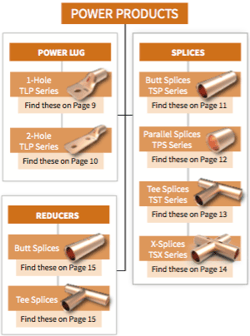 Cable Sizes for FLEXIBLE Cable
Corona-Free Surfaces
Burr-Free/Bright Corrosion Protection
With ASK Power you can customize your solutions for YOUR application needs.
ANSI and UL Testing
Lugs, Single and Double Hole
Splices, Butt, Parallel
Tees, Inspection Ports
Tech Library
Seamless Substitution
BOLTED BUSHING CONNECTORS FOR TRANSFORMERS
Visit ASK Power's Production Process.
Download our new Transformer Catalog (form on the right) or see our new line of Compression Tools.