You ASK for...
High voltage power and grounding compression connectors from an expert, experienced manufacturer...
Ask is a manufacturer that is responsive to your needs, seeks difficult challenges and has both the passion and ability to overcome them... a manufacturer that offers a complete range of wire gauges, stud sizes, and product options designed to your critical, exacting standards. ASK... Answers.
Contains Product Specs and Part Numbers for: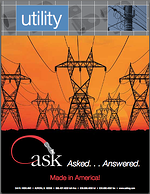 Aluminum Lugs;
Aluminum Pin Terminals;
Aluminum Splices;
Copper Lugs;
Copper Splices;
Copper Ground Straps.