World trade and political discussion emphasize how automation threatens the traditional manufacturing employee. How to support the evolution of these employees in the face of global competitive challenges is the question. Steve Kase, ASK Power's Founder and Managing Director, the Illinois Manufacturing Association, and Chicago's mHub have an answer: expand the skills and roles of the front line manufacturing person to create a valued worker who can evolve with automation and maintain a quality career.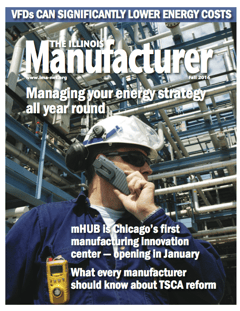 This idea is being put into practice through Chicago's new manufacturing innovation center, mHUB. Workforce Development and Manufacturing Innovation are the concepts that have made ASK Power the success it is today. "Training our employees to be full service process managers of Efficiency, Quality Control, Tooling Setup and Machine Maintenance," explains Mr. Kase. "This investment in people has dramatically improved the delivery times and quality performance for our customers."
The mHUB facility was designed to attract and support STEM trained personnel. These engineers and entrepreneurs in turn will provide innovative application solutions for small and medium-sized manufactures. "When we solve customer product development needs, we require new sets of talent and resources. mHUB is being set-up to help companies like ours," says Mr. Kase.
Read more about mHUB in this month's addition of The Illinois Manufacturer
Naumovich, Dan. "mHub is Chicago's first manufacturing innovation center - opening in January"The Illinois Manufacturer Fall 2016: p23-24. (PDF version)